If you are going to Bangkok for the first time, here's a bunch of advice about wandering around and using public transportations in the City of Angels. Some of those advice will likely also help you in any other metropolis, asian or else.
Tuk-tuk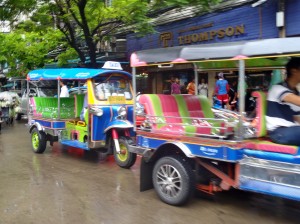 Let's get that subject out immediately. I never recommends tuktuks! They are uncomfortable, expensive, there's no air conditioning and you are exposed to pollution and weather. In case of accident you also have little to no protection. Additionally, you may not end up where you wanted to go but instead find yourself conveniently stuck at a tailor's business or a massage parlor.
The only reason anyone would use a tuktuk is when this is their first time in Bangkok and they have never been on a tuktuk before. Do it once, take pictures and then use other options.
echo adrotate_group(4);
Taxi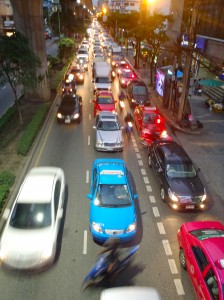 I try not to use taxis in Bangkok. Mostly because of the traffic. Most of the time you will find yourself stuck in traffic with a driver that starts to get nervous because he doesn't earn anything when he's not moving. However there are some occasions where you don't really have a choice, like when you have too many luggage or at night. In those cases two rules apply:
Never take a taxi whose driver is outside his car, touting his clients. Especially in tourist areas or when going out of a club in the morning. If you have to walk 100m to the nearest street to hail a taxi then do it, you will save a lot of money.

Always take metered taxis. Just ask "meter?" when the taxi stops. If the driver says no then ask the next one.
If you need to take a taxi from Suvarnabhumi airport there is a taxi station on the arrivals' level, managed by the airport. You will have to pay 50 baths extra but it's a safe option. One problem is that there's often a long queue there. If you don't want to pay extra or don't want to wait, just go to the departures' level and hail a taxi. You won't have any waiting time, there are always taxis dropping clients. Make sure you ask about the meter. In any case you will have to pay for the highway in addition to the taxi fare (unless you like being stuck in traffic).
UPDATE 2014-01-08 Richard Barrow reports that the airport installed turnstiles at the departure level to block access to the taxis. But it looks like you still can do it with a bit of gymnastics.
If you're going out in a club, at night, then the taxi will be free (the clubs pay the fares). Just tell the taxi the name of the club you want to go to. If it's the first time you go there, confirm with the driver that it will be free, otherwise make sure he uses the meter. If you take a taxi to go back home it won't be free. Don't choose one of the taxis waiting outside of the club, they won't want to use the meter. Walk to the nearest street and hail one.
If you order a taxi from your hotel reception then ask for a "metered taxi" and when the taxi is here confirm with the driver that he will use the meter. Some hotel staffs have "arrangements" with taxi drivers…
echo adrotate_group(4);
Motorbike taxi
Motorbike taxis are a very convenient and cheap way to travel short distances (the driver won't take you too far anyway). You need to be comfortable on the back of a motorbike tho. Make sure the driver has an extra helmet for you, and use it.
I usually combine BTS/MRT with a motorbike taxi, either to go to the nearest station or to do the last mile between the station and my destination.
Bus
I only take a bus when I am with Thai friends and they know, or can ask, what bus to take. There is no real schedule and no bus lanes in Bangkok, so buses are subject to traffic too. However, they are really cheap. Click here to get more information about Bangkok buses.
Boats & Ferries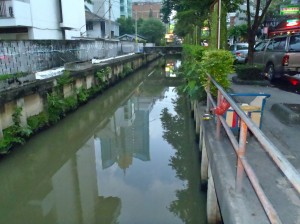 Bangkok is built on the delta of the Chao Phraya river and there is a lot of waterways in addition to the river itself. There was a time when travelling by boat was really common. It's not the case anymore and only a few waterways can still be used. There are few boat taxis and I never used them. Word is that, if you get splashed while riding a boat or you fall in the water, you will die (or at least get really sick). Click here to get more information about Bangkok boats & ferries.
BTS & MRT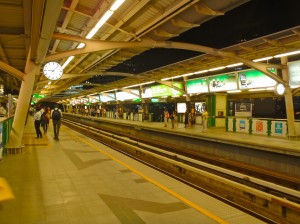 Combining the BTS (Skytrain) and the MRT (Metro) is the best way to travel in Bangkok, they are impervious to traffic, have air conditioning and are cheap. Only two drawbacks, they can get really packed with commuters and they don't run between midnight and 6am.
The Airport Link is a skytrain, part of the BTS system, and is a cheap way (and often fastest way) to go from Suvarnabhumi airport to downtown. From there you can easily link to the other BTS lines or the Metro. This is my preferred option when I arrive in Bangkok, don't have too much luggage and I am not too lazy (it involves some walking).
echo adrotate_group(4);
My preferred way to travel is to combine motorbike taxis, the Skytrain and the Metro. But when I am lazy or in a hurry and there is no or little traffic I will just take a taxi.
What about you? If you are a Bangkok regular, tell us in the comments how you usually travel around and if you have interesting stories about public transportation in Bangkok.