I went to ascent Mt Fuji Monday and Tuesday with a girl named Lae, who I met on CouchSurfing. I had contemplated the idea to go to Mt Fuji before coming here but when I saw Lae's post on the CS Tokyo forum asking for people to go with her, I though "let's do this…" and I posted a response the same way I bought my ticket to Japan, knowing it will somehow force me to do it.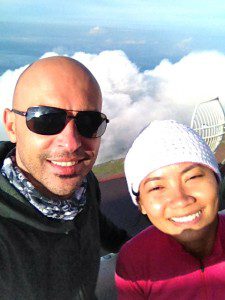 We started on the Yoshida Trail from the 5th station at about 2'300m, spent the night at the Goraiko-kan station (the 8.5th station) which stands at 3'045m and headed in the (very) early morning to the summit at 3'774m.
The guys at the Goraiko-kan station told us it would take us between 1 and 2 hours to climb the last leg so we decided to leave around 2:30am to be there for the sunrise at 4:30am. The sunrise was glorious but honestly I was completely frozen. We actually climbed the last leg in less than 40mn and we waited 1 hour and 20 minutes in the freezing cold up there. Hopefully, I was almost perfectly equipped, unlike those two French 20 something guys who actually came in sneakers, jeans and sweat shirts. I guess if the Yoshida Trail was not so popular those guy would have die there.
I hadn't done anything like that since Argentina in 2010 and my left knee took onto itself to remind me why on the way back. So now I am slowing down for a few days because, here in Tokyo, there are stairs everywhere. In the metro and train stations, to go down to the bars or go up to the restaurants and almost no lift or escalator anywhere. Only in the shopping malls you can find escalators, but I don't do shopping malls. Although, my friend told me it's a good playing ground if you want to hit on Japanese girls so I may revise my judgement.
In conclusion, if you want to try Mt Fuji, just remember this is not just a touristic attraction. This is real mountain stuff, so bring your gear. We had ideal conditions this time but I can see how it can turn to a real nightmare. Full gore-tex, polar fleece, high hiking shoes (the trail is made of volcanic rocks, small and large and sometimes it's almost like climbing in a "pierrier") are in order and bring some heat-packs for the wait at the summit.
More pictures in the Flickr set here.
UPDATE 2013-10-10: Lae just published a nice post about her experience on her blog: It's the Climb: Conquering Mt. Fuji